MICA SCANDAL: Demonstration at Irish Consulate in Edinburgh against faulty building materials used in Irish houses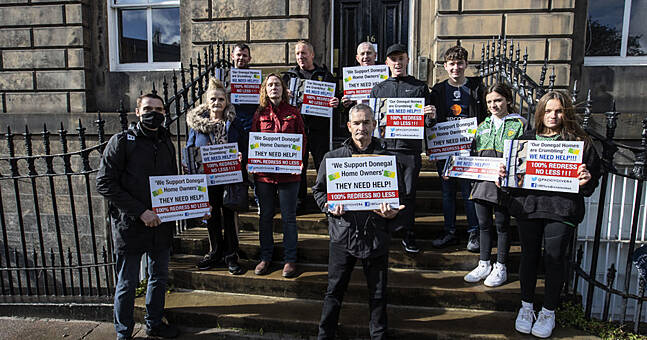 SCOTTISH friends and relatives of Irish homeowners, who fall victim to a scandal over faulty concrete bricks causing their homes to collapse, have staged a protest outside the Irish Consulate in Edinburgh.
The group was supporting a massive campaign in Ireland – where thousands face financial ruin and homelessness – and is calling on the Irish government to pay the full cost of rebuilding their homes.
Protesters claim the Irish government has failed to properly regulate the production of concrete masonry, which contains too much of a mineral called Mica which is used as an aggregate in building blocks.
Too much mica in a concrete block will cause it to crumble as water seeps into it.
Regulations state that a concrete building block should only contain a maximum of 1% mica, but tests carried out on the masonry of some houses show mica levels to reach 17%.
A huge protest has already taken place in central Dublin after the Irish government said it would pay only 90% of the reconstruction costs and owners will also have to pay the € 6,000 it costs to carry out repairs. tests on the masonry of their house.
The # 100percentredress protest in Scotland was organized by Andy McGrath – a Paisley-based builder who has family in Ireland whose home is affected by crumbling brickwork.
He said: "This is a scandal of enormous proportions that has caused untold heartbreak and grief to the people whose homes are affected by these faulty concrete building blocks.
"There are several thousand first, second and third generation Irish living in Scotland who have family and friends whose lives have been turned upside down because their homes are literally falling apart around them. "
He added: "In Donegal alone, where I have family, there are over 5,000 houses that have become uninhabitable due to the excess mica in the masonry.
"We have seen a massive campaign in the Republic to try to force the Irish government to shoulder its responsibilities by giving those affected 100% redress and paying the full cost of reconstruction.
"It is the least they can do after the government has failed to properly enforce regulations regarding the manufacture of this type of masonry.
"The current government's position of offering to pay only 90% of the reconstruction costs is all the more infuriating as a similar problem of pyrite in masonry has been discovered in Dublin. "
Mr McGrath led the group which delivered a protest letter to the Irish Consulate General in Edinburgh this week.
"We may be across the Irish Sea here in Scotland, but we will be alongside those campaigning for the government to pay 100% of the reconstruction costs to the innocent victims of this scandal," did he declare.
"We have delivered a letter of protest to the Consulate General of Ireland, Scotland, asking Consul General Jane McCulloch to convey our anger and determination to continue campaigning on behalf of our families and friends in Ireland to her government at Dublin."