Restore, build and manage affordable housing | Community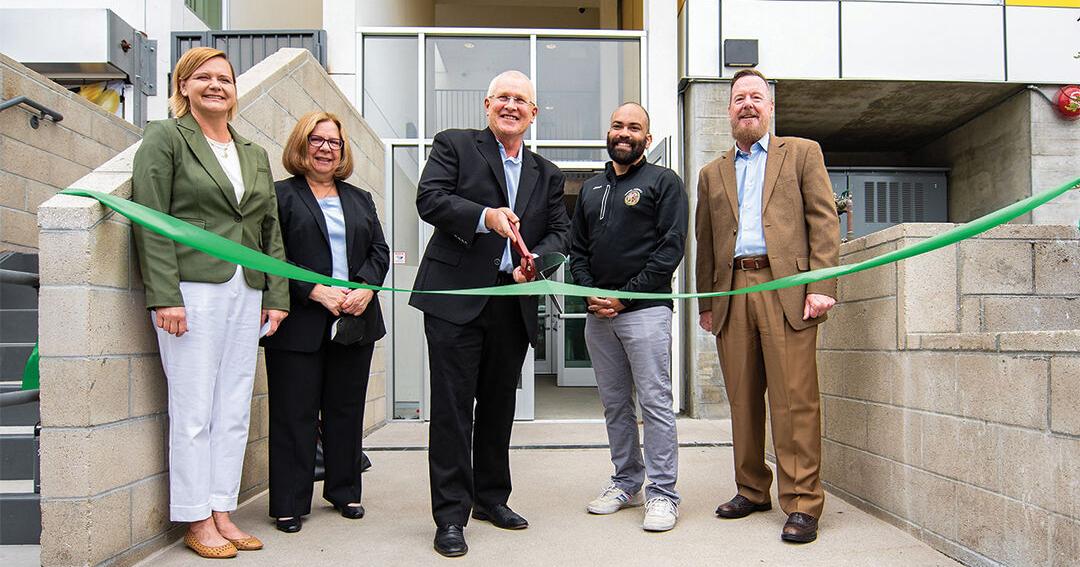 Community Corp unveils new development at Mar Vista
Forty years ago, community leaders in Santa Monica were concerned about the gentrification of the city and decided to create Community Corporation. Today, the team is made up of many hardworking employees, including Tara Barauskas, General Manager of Community Corporation.
Barauskas joined in 2016 and was a significant addition to the company with over 20 years of experience developing affordable housing for profit and non-profit organizations prior to joining Community Corporation. She currently oversees the management of 1,800 housing units, including housing development, resident services, maintenance and administration for 80 team members.
"I was introduced to the affordable housing industry in college, started working for a few organizations over the years, and I'm glad I ended up working at Community Corporation because I live in the Westside" , Barauskas said.
The non-profit organization begins by finding funding for the projects. Money comes from multiple sources, sometimes even up to five or more, making it difficult to line everything up. This process includes buying the property and starting construction, whether from scratch or restoring an existing building.
One thing that needs to be taken into consideration are public policy objectives when deciding where to place the project in the first place. Community Corporation is specifically focused on families, prioritizing proximity to public transportation, having high-quality schools nearby, building in walkable neighborhoods, providing a diverse cultural experience, etc. This cultivates an economically and environmentally sustainable community where residents can thrive with dignity. The homes welcome people from all walks of life and provide opportunities for families, children and the elderly.
Planning the construction of a new building ensures an updated and aesthetically pleasing addition to the neighborhood, while renovating an existing building greatly improves the area, reduces the number of natural resources used for housing, and is also an opportunity to achieve net zero carbon emission status.
After securing funding and beginning the process of building the apartments, Community Corporation implements all plans for an eco-friendly lifestyle, including solar panels, drought-resistant landscaping, micro towers -hydroponic greens and a variety of passive lighting and cooling strategies, which make the building naturally cooler and brighter. Utilizing the building's natural ventilation capabilities also reduces the energy footprint and maintains the company's commitment to sustainable building practices.
Due to Community Corporation's success in the Westside, they began to expand their work to other areas of West Los Angeles. There was a ribbon-cutting ceremony on June 3 to celebrate the completion of their first property at Mar Vista, an all-electric building named Vista Ballona. There is another project that should start in December in Westchester and it is only from there.
"My main goal is to have affordable housing in every part of the Westside to desegregate society and continue to grow in other areas of Los Angeles," Barauskas said.
The hardest part of any of the projects is the opposition everyone faces. Not everyone sees the potential to provide people with affordable housing.
"It's very difficult to be in this industry, especially in the Westside, because it takes a lot of time and money to build and there's a lot of resistance from people against projects," Barauskas said.
Fortunately, there are people who believe in magic and the power of coming together to create a healthy and happy environment. Community Corporation has partnerships and people it works with regularly to maintain a steady flow in its work to produce homes that cultivate inclusivity, sustainability, opportunity and community.
"We have partnered with the Westside Regional Center and have reserved 12 of the units in the newer building for people with developmental disabilities specifically," Barauskas said.
The new building is one of 100 buildings (1,800 units) owned and operated by Community Corporation that reflects the needs of residents and embraces its green features and sustainable living practices.
"It is gratifying to see families take advantage of the opportunities we provide and lead successful lives," said Barauskas. "If anyone deserves to live in these modern, sustainable spaces, it's our residents."
The focus on such important and specific priorities by a community corporation also allows residents to feel comfortable and secure in their relationship with management.
"One of the best things about living in these affordable housing buildings is that the management is very accessible with everything the residents might need," Barauskas said.
Several other projects are under construction, including Pacific Landings, Brunson Terrace and Las Flores. There are also properties that are under construction but not yet under construction such as Little Berkeley, Vons and The Fairmont.
"It's so cool to walk past buildings I've worked on and seen come to life," Barauskas said.
In addition to providing residents with a safe place to live, Community Corporation has gone further by building services to help residents move their lives forward. A house is much more than walls, floor and door. It's a place to promote wellness, uplift each other, and find support in others. Services are provided free of charge in partnership with local programs for all residents. These include investing in students, encouraging well-being, inspiring creativity and promoting resilience.
Each building invests in students by running tutoring and education programs for children, adults, and seniors aimed at closing performance gaps and empowering everyone through academic success. There are also adult enrichment, literacy and workforce workshops.
To keep residents on top of their health, each building offers on-site exercise programs with mental and physical health resources. It's a great way for residents to meet their neighbors and bond with people in their community. There is also a community gardening program and opportunities to work with local nonprofit organizations to help learn more about nutritional foods.
Each resident can become more in tune with the culture through local art programs, art showcases and in the broader arts community. Each building promotes volunteerism, engages local voices, and hosts emergency preparedness initiatives as a helpline for residents.
Allowing all residents to access workshops and classes creates more participation, openness to others and greater support within the community.
Interested individuals can get involved by applying for a position, taking advantage of volunteer opportunities, or becoming a volunteer advocate who is willing to champion the pursuit of each project.
Community Corporation of santa monica