Spartans cut the ribbon for the new state-of-the-art STEM building | Education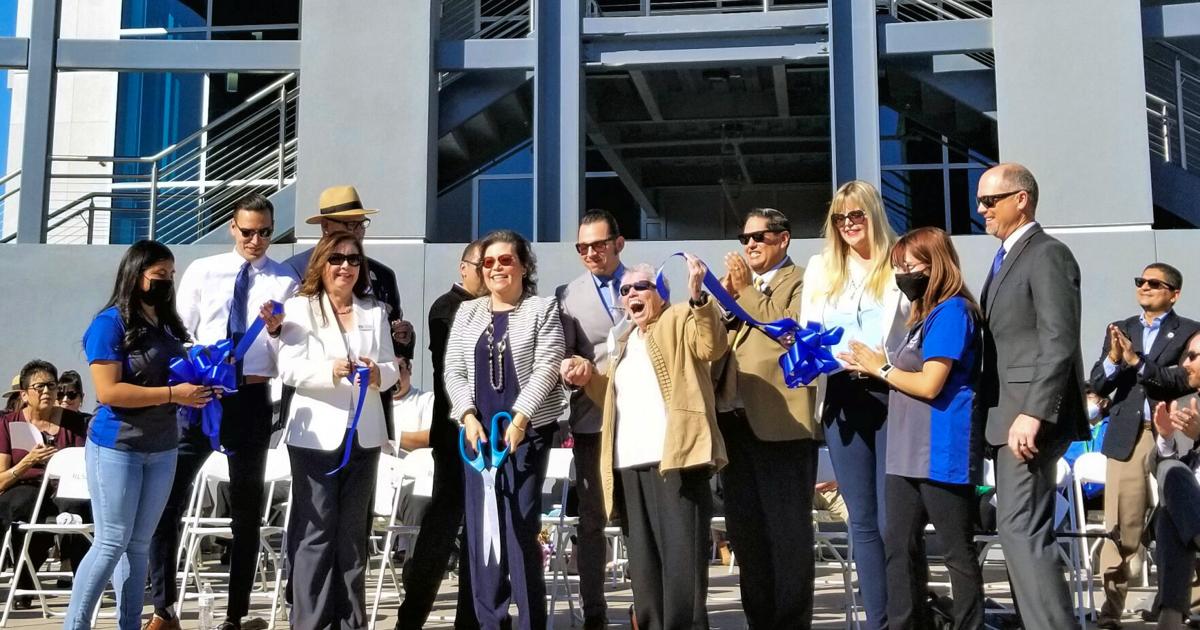 THE CENTER – In the middle of a 113-year-old campus now sits the crown jewel of STEM learning for the Imperial Valley.
Years of planning and nearly three years of construction culminated in Central Union High School District's groundbreaking ceremony for its new state-of-the-art STEM (science, technology, engineering, and math) building on Tuesday, March 1. located on the northwest side of Central's campus near the tennis courts, where the old Commercial Classrooms Building and various mobile classrooms were once located near the Cal Jones football field.
While the building was open to the public for tours on the evening of February 28, dignitaries from across the Valley, as well as apparently all Central students, were present in the school's new amphitheater – adjacent to the new building – to celebrate the district. Completion of a new building opening despite pandemic-related retooling and rising material prices during the construction phase.
The new building has 32 teaching stations divided between standard classrooms and labs for biology, chemistry, biomedical anatomy and other sciences, said Jimmy Sanders, owner of Sanders Inc. Architecture and Engineering.
Of the 32 rooms, 13 are science labs and two rooms are for additional uses such as the robotics lab for the school's robotics team and a "collaboration room" for creative thinking and others. school uses, said CUHSD Superintendent Dr. Ward Andrus.
Each classroom is equipped with built-in sound (instructors have built-in microphone capabilities) and "classroom display technologies", such as large touchscreen smart TVs in front of the class, interactive flat screens and (bird's eye view) "hover" cameras, among other features.
"It's our science and math department building, but we've added in the Anamotage board for our biomedical science career path, 3D printers and manufacturing equipment for an engineering path," said said Dr. Andrus. "It's also a very flexible space in terms of what we can do. We really wanted to elevate the student experiences.
In addition to the normal new tech traps, career path classes have even more specialized equipment such as 3D printers, a waterjet laser cutter (called a "Wazer") in the engineering lab, and a table $75,000 Anatomy Library – a large, table-sized display with life-size digital scans of actual human and animal cadavers stored on it – for anatomy classes to use when learning about human biology .
"What we're focused on, we want our students to have industry standard experiences, not industry simulated, but industry standard," the superintendent said, "and that's why we push back somewhat the limits with what they experience in the classroom and the tools and resources at their disposal. »
Andrus said $25 million of the $30 million bond money from Measure K from the 2016 election was what was used from the measure, with other public funds coming in from various sources. . With the cost of building materials and technology increasing in recent years, as well as unforeseen discoveries while digging up a decades-old business classroom building, the total cost of the new building STEM was around $38 million.
"Our children really deserve a space like this to learn," Dr. Andrus said.
"Very deliberately, this building does two things: one, it's a huge benefit to the students of Central Union High School personally, as it may change their trajectory, as well as generations of little Spartans and impact our sister schools," he said. "It also does exactly what I wanted it to do: to make everyone in the Valley look at (this building and our career paths) and be like, 'We can do this. What can we do for our children and our programs? This ripple effect over generations (will) have a huge economic impact for the community.
Coming to CUHSD a few years ago with experience from other upstate districts, Dr. Andrus said he knew Imperial Valley students were just as smart as students from nowhere. anywhere else, but he said he hopes this new STEM building will level the playing field for students at the center in terms of opportunities for them in their future, hoping that the experiences they have using All the new gear in high school will give them a leg up on the competition as they work to develop a career.
"I know what (this building) can do for kids…they're inspired," Andrus said, "and then the teacher says, 'What else can you do with it? Let the kids run with it. They find wonderful things, and they will stretch and grow.
"Our job is to inspire and provide opportunity, and that's what this building is trying to do," Dr. Andrus said.
CUHS Director Craig Lyon agreed.
"They're going to have the ability to use equipment and devices that some people don't see until they're juniors or seniors in college," Lyon said. "It's exciting for our students to have this opportunity to have this amazing building to be able to expand learning in so many new ways."
"One of our professors who is in aeronautical engineering said that there is material here that he did not use until he took his (old) job," Lyon said, "and so for that our students can use material that they will actually see in their career field is just amazing.
"As a director, I'm just happy to be a part of this and to be able to see this process go from the Measure K obligation to the completion of this building," he said. "I am delighted that our students and teachers can use this building. »
The next step in the district's construction program, Dr. Andrus said, is to use the remaining Measure K bonds to build the district's long-awaited aquatic center, or competition pool, at Southwest High School.
Dr. Andrus said the district currently has $5-6 million in K-measure reserves to go into the pool, but "we estimate the pool is between $1-12 million in the current market."
Dr. Andrus said the district held an initial community meeting in September 2021 for the community to provide input and feedback regarding the pool plans. At that meeting, he said the district had already considered the size of the pool, seating, changing rooms, snack bar, etc.
The Southwest Aquatic Center will have seating, restrooms and shaded change rooms for school sports teams, as well as pool heating. He said the district intends to make it a 16-lane pool to accommodate school swim meets within the CIF more than a community-use pool.
Dr. Andrus said the schedule for the district is to hold the community meeting on March 22, make a presentation to the CUHSD board on April 8, present the construction plan to the board for approval in June, obtain state building approvals and innovate. on the actual construction of the Aquatic Center by January 2023.
He said the next community meeting will gather information on design features and "what it might look like," including where to put it on campus.
"If the community wants to get involved and talk to us, they need to get on it now (and not wait for board meetings)," Dr. Andrus said.
But the excitement for the opening of the STEM building appears to be just beginning, as officials from CUHSD and Imperial Valley College were already talking during opening tours about future partnerships and sharing information for building improvements. the CVI.
"There's already a buzz going around," Dr. Andrus said. "Parents are like, 'Can we have an adult education class here? I would enroll in the course. Can I go back to school?' So that made an impression on people. Our adults can appreciate it, and I hope our students too.
"I'm so grateful to our community, our board, past board and past superintendent, and how they saw and believed in the vision and gave us the task to do something really different and meaningful with their tax money," he said.
"We dream and hope that this building will last another 100 years," said Dr Andrus.
The community meeting for feedback on the pending aquatic center at Southwest will be held Tuesday, March 22 at 6 p.m. at the Southwest High School Library. For more information, contact Southwest High School at 760-336-4100 or the CUHS District Office at 760-336-4500.