The COTA building is now open | New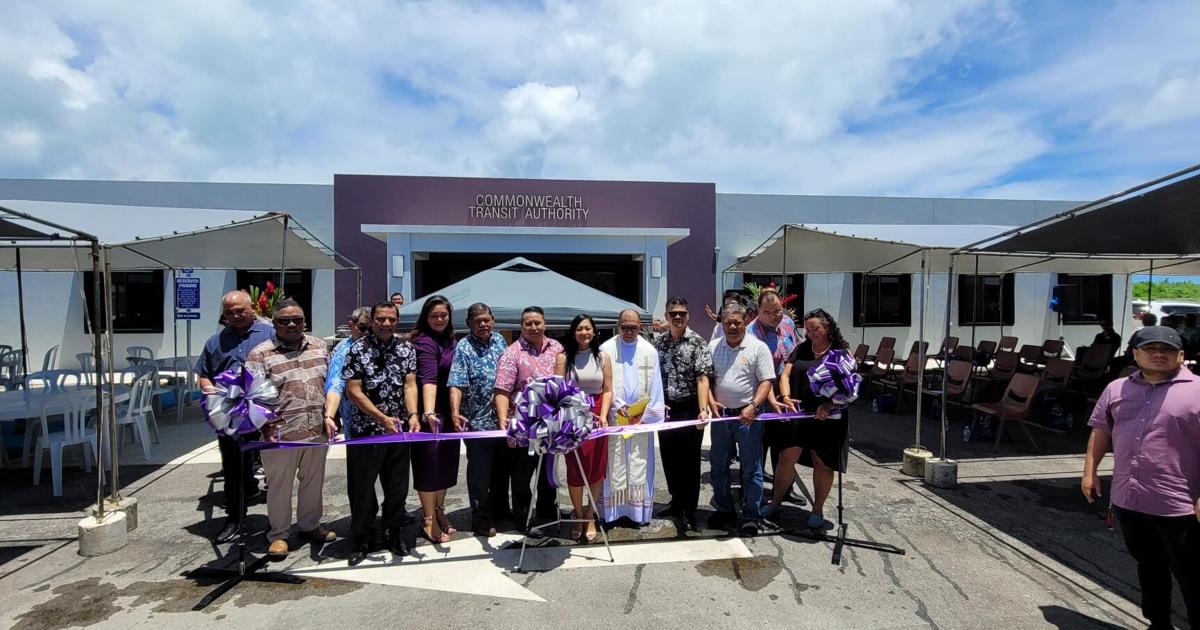 THE Commonwealth Office of Transit Authority's $4.3 million administration building and maintenance facility project at Lower Base is now complete.
CNMI officials gathered at the new site for a groundbreaking ceremony on Monday, two years after the groundbreaking ceremony.
"Just two years ago today, in the midst of the Covid-19 pandemic, we gathered here for the groundbreaking ceremony for this project… We did it," said the special assistant for public transport Alfreda Camacho Maratita.
Plans for the building were developed in 2013 by the late Thomas J. Camacho, the former Special Assistant for Public Transportation, with a competitive $1.1 million grant from the Federal Transit Administration.
After the architecture and engineering design was completed in 2013, it was learned that there was a huge budget shortfall of $3.2 million.
"The only other way [to carry out the project] was to try to go after another [Federal Transit Administration] competitive grant, and that is exactly what we have done. Through the [FTA's] Bus and Bus Facilities Program, COTA applied for this grant opportunity and in September 2018 received the shortfall necessary to complete this project," said Maratita.
"It certainly hasn't been easy to get to where we are today, but with determination and faith, this day couldn't be more than close to perfection," she added. .
The structure includes paved parking, driveway, bus parking, stormwater mitigation, treatment and drainage, perimeter security and lighting, bus wash area, water separator, a site security fence, a generator building, a water tank and a maintenance facility.
The building houses offices, conference room, training rooms, reception area, storage, library, lounge, kitchen, one-click call center for COTA staff, restrooms, showers and changing rooms for staff.
"Dedication ceremonies like this provide an opportunity to reflect on all it took to get here," Maratita said. "Our main objective remains the same: to ensure the level and quality of transportation services offered to everyone at the CNMI. This building will allow COTA to fulfill that and more. Therefore, as residents of these same islands, we must work together to continue to support and invest in public transportation, to continuously drive economic growth, and to improve the quality of life for every person living here in the CNMI.
Maratita thanked the U.S. Department of Transportation for fully funding the project and supporting COTA's plans to expand public transportation in CNMI.
She also recognized the COTA team for all the sacrifices and dedication each of them has made to keep the CNMI community safe, whether during a disaster or a global pandemic.
In addition, she thanked Governor Ralph DLG Torres, FTA Region IX Administrator Ray Tellis, Program Engineer Ryan Fuji, Department of Public Works, GHD Inc., RNV Construction, IT&E, Joeten Motors , Kautz Glass, Michels Corporation, Marpac, Commonwealth Utilities Corporation, Department of Fire and Emergency Medical Services, Department of Finance, Department of Lands and Natural Resources, and all licensing agencies for contributing to the project.
"I am very honored to have worked with so many men and women, both in the public and private sectors, who have contributed to this historic achievement for our CNMI," said Maratita.
COTA was created to develop a public transport system in the CNMI.
The governor, for his part, expressed his gratitude to Maratita, all COTA employees and federal partners who helped make the project possible.
FTA Region IX Administrator Ray Tellis congratulated Maratita and the COTA team for their hard work.
"It's not every day that we fund a facility 100%, so kudos to you," he said in his special address.
"This is the first project of its kind in the territories, and it is led by a female manager. I mean, it's really something," said Tellis, who emphasized the importance of inclusion and equity in serving a diverse community and meeting the transportation needs of the public.